Volunteer
TAP would not exist if it were not for our volunteers.
We need volunteers for most every aspect of our operation from box office, concessions, and ushering to carpentry, stuffing envelopes, sewing, and more.
If you would like become part of the TAP family of volunteers, please give us a call at (920) 743-1760 or click the SignUpGenius logo to sign up directly!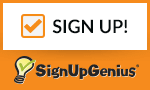 THANK YOU!